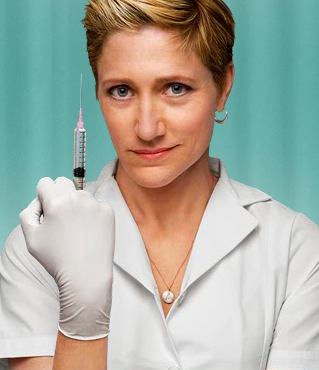 The Nominees
:
1. Lea Michele "Glee"
2. Julia Louis-Dreyfuss "The New Adventures of Old Christine"
3. Edie Falco "Nurse Jackie"
4. Amy Poehler "Parks & Recreation"
5. Tina Fey "30 Rock"
6. Toni Collette "The United States of Tara"
Should Win/Will Win
: Edie Falco "Nurse Jackie"
Commentary
: I am still flabbergasted that the wonderful Courtney Cox was once again shut out of the Emmys, but I have learned to forgive, and am moving on. This category looks like it would be a tough one, yet for me it was one of the easiest to pick. Lea Michele is excellent in Glee, but may have to wait her turn for an Emmy. Julia Louis-Dreyfuss has won this category, and others, and should be happy to keep getting nominated for a so-so series. Amy Poehler finally gets a well-deserved nod of Parks & Recreation, and could be a dark horse for the win. Then there are the big three. While Tina Fey and Toni Collette are previous winners, both of them will be sitting in their chairs as the Emmy fave Edie Falco, who has already conquered the drama category, takes away another Emmy for her incredible turn in the new hit series Nurse Jackie.